Mountainburg Public Schools teaches and promotes recycling practices. In partnership with the City of Mountainburg, recycle bins are available at the MHS and MES campuses. Please note: We are not collecting recycle to raise funds. Recycle bins are a paid service, but cheaper than waste, and better for the environment. District has reduced waste bills substantially by recycling rather than waste removal, but our ultimate goal is to REDUCE.
We also partner with Abilities Unlimited to recycle corrugated cardboard. Their team picks up cardboard from the totes next to the recycle bins and from various business partners in town. This reduces the cost of our recycle bins, and adds to the volume of their cardboard baling and resale program, providing jobs and revenue for Abilities Unlimited. PLEASE PLACE BROKEN DOWN CORRUGATED CARDBOARD IN THE TOTES.
Bins accept the following products:
PAPER

CARDBOARD

#1 & #2 PLASTICS (these are mainly bottles)

TIN, STEEL & ALUMINUM CANS
ALL ITEMS MUST BE EMPTY AND FREE OF FOOD RESIDUE
Bins DO NOT accept:
PLASTIC BAGS (Open and dump bags of recycle material to allow them to settle and pack tighter - take the plastic bag with you - it is waste and adds labor costs to the recycle program by having to open and remove them).
GLASS

PLASTIC BAGS, PLASTIC WRAP, HARD PLASTICS #3, #4, #5, #6

STYROFOAM

PRODUCTS WITH FOOD RESIDUE

CLOTHING

OTHER MIXED MATERIAL ITEMS SUCH AS

LAMPSHADES, FRYING PANS, CHRISTMAS DECORATIONS, ETC.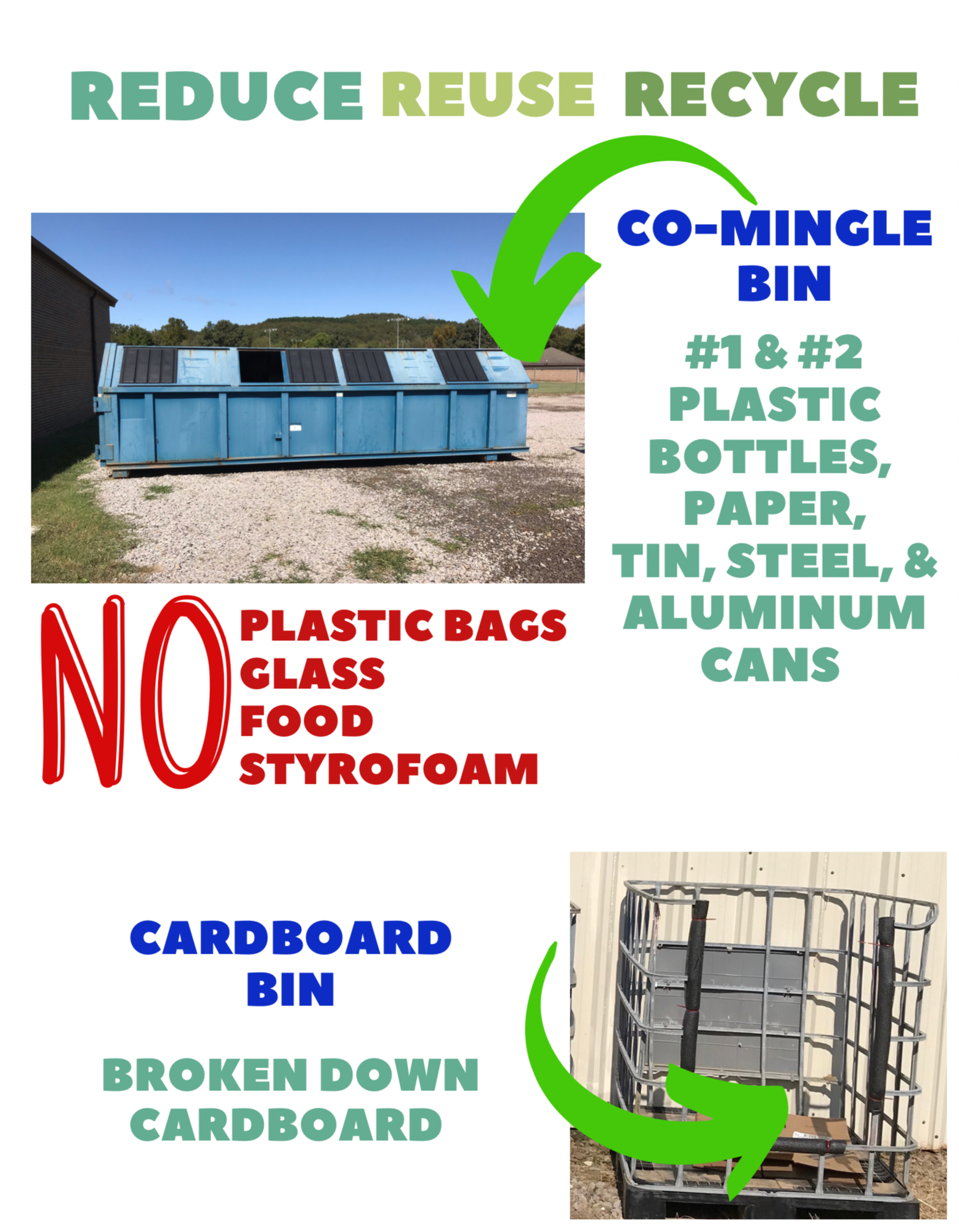 For more information contact the Admin Office
479-369-2121
To report abuse of the recycling program please call the Mountainburg Police Department.